20 min Presentation + 20 min Discussion
Moderator:
Vytautas Michelkevicius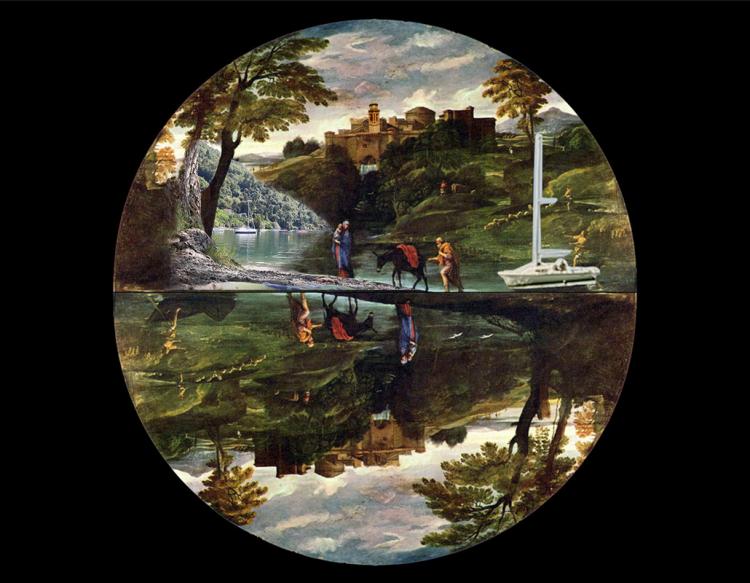 My research critically explores imagination as an alternative fertile ground where knowledge may be rooted. It addresses the substantial, systemic change that our world requires by looking at and recording (moving)images in the now-here while reflecting on the extent to which these locations externalize societal imagination. One central aim is to challenge the temporality of formats of landscape documentation; another is to anticipate future forms of valuing landscape as a knowledge repository. The method establishes a visual comparison between an ideal landscape as a painting genre and video recordings and oral stories of my hometown Cannero Riviera today — a village on the Italian shores of Lago Maggiore (IT). It actively embraces and detaches elements of actual landscape, and it analyses them in relation to "Fuga in Egitto" by Annibale Carracci (1604, oil on canvas). Through meditation, the detached elements are rethought with the aim of rooting the research in the imagination. The elaborated materials are brought into relation on a digital tableau within the Research Catalogue. To what extent can there be a relationship between Carracci possibly first, imaginary, painted ideal landscape and the real place Cannero Riviera imagined as an ideal landscape? The painting genre of the ideal landscape thematizes the shift in the position of the landscape, from the background to the protagonist of the narrative being told. Humans are no strangers to the scene depicted, but they do not dominate with either their figure or perspective. In classic utopias, the citizens behave according to the rules of the ideal society as imagined. In an ideal landscape, what is ideal is the landscape in itself. Although inspired by a physical landscape, this landscape is heavily idealized following the so-called classical canon of 17th-century Eurocentric views. As with filming, images are captured on-site but are then elaborated and edited.
Artist and researcher Ilaria Biotti (1982, IT) lives and works between Cannero Riviera and Berlin since 2009. In her artistic practice, Biotti explores through and in video the extent to which imagination and landscape influence and evolve each other. Biotti is a PhD candidate at PhDArts, Leiden University and KABK (NL). She has participated in international exhibitions including OMONOIA 5th Athens Biennale, Cittadellarte, Goethe Institut Bogota, Istituto di Cultura Italiano Cape Town, NSK State Pavilion - 57th Venice Biennale, Tate Exchange London, and Transmediale CAPTURE ALL Berlin.