40 min Presentation + 40 min Discussion
Moderator:
Jacob Anderskov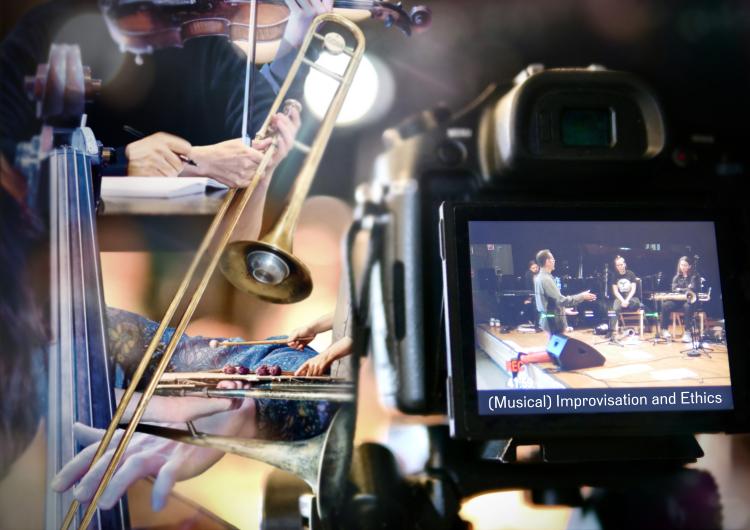 In interdisciplinary projects that integrate artistic research, how do teams - calibrate zoomed in ("practical") and zoomed out ("observational") perspectives? - balance the generative and comparative aspects of practice-informed research over time? - negotiate formats and priorities in individual and group publication outputs? In this presentation, we — an artistic researcher in music, an anthropologist, and a phenomenologist — address these questions as we unpack the methods of ""(Musical) Improvisation and Ethics," a four-year interdisciplinary project funded by the Austrian Science Fund (grant ZK93). The aim of the project is to investigate the improvisatory foundations of ethical behaviour and processes across a range of human activity. A series of seven ""(Musical) Ethics Labs," with live experimental improvising music ensembles, offers case studies for examining and experimenting with key ethical phenomena such as listening, habituation, and value-formation. The Labs interlock three perspectives in a holistic research process with artistic practice at its core. In each ten-day Lab, musical ensembles improvise with and against given situations, structures, and interventions. We interact with the musicians creatively in rehearsal, as well as through phenomenological interviews, focus groups, and participant observation. Musicians also propose their own methods and collectively program two public concerts. Each Lab is professionally documented from beginning to end. The goals of this artistic-scholarly assemblage are to bring out the ethical phenomena of interest for the benefit of the musical process itself, verbal exchange, and documentation and later analysis. Analysis of each Lab informs the design of the next and will cumulatively ground a generalisable conceptual framework for understanding the ethical significance of improvisation beyond music and art. The project collaborators include Christopher A. Williams, Caroline Gatt and Joshua Bergamin
Christopher A. Williams (1981, San Diego) makes and researches (mostly) experimental music. From 2021-2025 he will lead the research project "(Musical) Improvisation and Ethics" (Austrian Science Fund ZK 93) at the University of Music and Performing Arts Graz. As a composer and contrabassist, Williams' work runs the gamut from chamber music, improvisation, and radio art to collaborations with dancers, sound artists, and visual artists. His artistic research takes the forms of both conventional academic publications and practice-based multimedia projects.
Caroline Gatt is Senior Research Fellow at the Institute of Cultural Anthropology and European Ethnology, University of Graz, and Co-Principal Investigator on the project (Musical) Improvisation and Ethics, funded by the Austrian Science Fund. She is an anthropologist and performer, and her research interests include collaborative anthropology, laboratory theatre, design anthropology, environmentalism, ontological politics and ethical self-formation. Her publications include 'Breathing beyond embodiment: exploring emergence, grief and song in laboratory theatre' (2020); An Ethnography of Global Environmentalism: Becoming Friends of the Earth (2018); the special Section Knowing by Singing (with Valeria Lembo, American Anthropologist 2022); the special issue Considering Onto/Epistemology in Collaboration (Collaborative Anthropologies 2018), and, as editor, the forthcoming Beyond Perception: Correspondences with the work of Tim Ingold (with Jan Peter Laurens Loovers) and The Voices of the Pages (2017/2018).
Joshua Bergamin is a philosopher at the University of Vienna. His work is highly interdisciplinary, combining analytic philosophy of mind with insights from continental phenomenology, supported by rigorous interpretations of empirical evidence from developmental and comparative psychology, neuroscience, and linguistics, as well as anthropology and ethnomusicology. Josh's philosophical work forms part of a broader engagement with the political and ethical concerns that inspire it. In various former lives, Josh has worked as an advisor in the Parliament of New South Wales, and as a performance artist and percussionist in Edinburgh. His artistic training and practice, particularly in improvised music and dance, complement his research themes and have inspired elements of his published work, which has appeared in both scholarly and literary journals.