Performance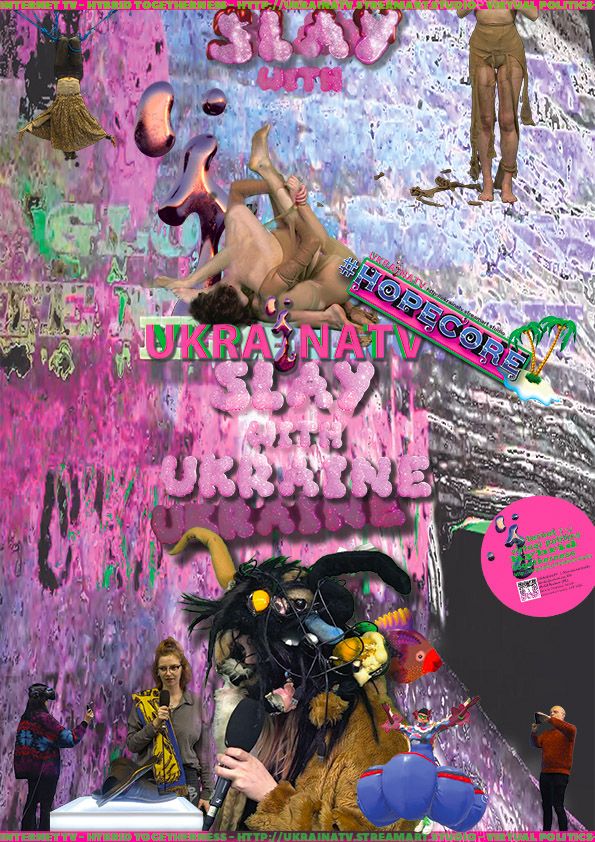 Selection of experimental practices by UKRAiNATV x StreamArtStudio team together with invited artists from Ukraine and beyond, performed in a hybrid, participatory show linking video studios in Krakow and in Trondheim. The event includes series of #streamart performances, audiovisual mashups doing live x pop-up performative exhibition in mixed realities as manifestation of our vitality in rare, fresh and hot version, like is Eastern-Central Europe now itself (in shadow of war). UKRAiNATV will mix together tv show, club event and political reflection.
Working with information, digital forms, informal streams of signals and emotions, it plays with multi-directional gazes and over-stimulation, searching for new forms of visibility and archiving experiences as well as bitter memories...
PARTICIPANTS x TEAM x GUESTS:
Giulia Timis, Ksenia Mirgorodska, Glebalisation, Rom JJ, Sonya Suprun, Sofia Reznichenko, FED., Microfreeq, Julia Ł. Mazur, Konrad Wojnowski, Kinga Wyderka, @_sakrum_, @robaczkjut, Mohammed Bayesteh, Alex Murray-Leslie (CHICKS ON SPEED), James Maiskyi, Julia Sokol, Teodor Shaidenko, Mari Sanden, Maria Shurkhal, Prerna Bishnoi, Anastasia Turcan, Stanisław Liguziński and OTHERS...
Costumes:
POKORA DESIGN, Sonya Suprun, @nieumiemi, @zuzaok, Daria Mosman COSMOS, Julia Ł. Mazur, Ksenia Mirgorodska, Anya Viesna, Veselka Custom
AV design / production / live realisation:
Rom Dziadkiewicz, Glebalisation, Mohammed Bayesteh, Julia Sokol, James Maiskyi, Anastasia Turcan
Music:
Glebalisation, Microfreeq, CHICKS ON SPEED, FED, UKRAiNATV archive
Title design:
Weronika Emilia Baran
Trondheim - Krakow 2023