Katharina Kneip
Signe Alexandra Domogalla
20 min Presentation + 20 min Discussion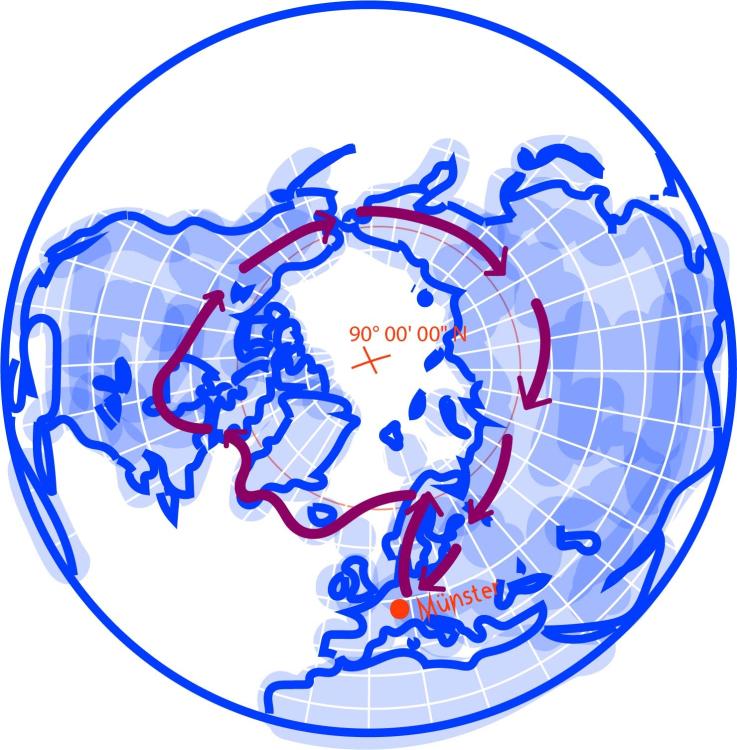 Round:Motion is a long-term, interdisciplinary project by Katharina Kneip that consists of various interconnected parts. It reflects on hierarchies, particularly the reality of feminism and gender equality within the context of outdoor adventures, as well as on bodily movement in the context of nature. It seeks to create a language of its own, and to become a process itself rather than just exist as a mere reaction. Round:Motion aims at an expansion of a system, at breaking open conventional structures, question documentation processes, and providing access to information and thought processes. What could research, movement itself and documentation on and of movement within landscape look like, in order not to reproduce patterns of dualistic and hierarchical power structures? Round:Motion:TOUR is the practical, physical, unpredictable, and unimaginable exploring movement — a circumnavigation of the earth by foot, ski, pack raft, and kayak on a northern route. Starting in January 2023 in Münster (Germany), crossing i.a. Sweden, Norway, Canada, Alaska and Russia, within a duration of about five years. In April 2023 the Round:Motion:TOUR will reach Oslo after two and a half months of walking. In Oslo, Katharina will collaborate with the performance artist and dancer Signe Alexandra Domogalla for several days to create an open talk at the Kristiania University College, followed by a public hike and bonfire in collaboration with DNT and the Goethe Institute. Domogalla, together with actor Lars Arstad, is researching how the bonfire could serve as an open artistic practice that might enable non-hierarchical deep connection with other beings in order to facilitate democratic collective processes. How do the projects inform each other as part of Round:Motion? For this conference, we will create a live digital presentation / interview and artistic reflection around the bonfire on how these projects might be modes of reacting to the urgencies of our moment.
Katharina Kneip (*1990 Trier /Germany) studied Fine Arts at the Academy of Fine Arts Münster in the class of Prof. Mariana Castillo Deball and the Academy of Fine Arts Vienna in the class of Prof. Monica Bonvicini. She combines research into time and a positioning within the world with examining human as well as societal limitations, phantasies and personal, bodily experiences.
Signe Alexandra Domogalla is an associate professor in dance at Institute for Performing Arts, Kristiania. Her artistic research is amongst others topics concerned with performance in and with nature as well as interpersonal experiences and embodiment in and with nature. This is manifested both through her active outdoor life and her artistic expressions. In addition her artistic research is concerned with creation of multimodal forms of performing and creating as well as research on autoethnography and personal narratives as a basis for perfomance text. In 2023 she leads the interdisciplinary research project FactArt, on Narrative Exposure Therapy in collaboration with amongst others the University in Konstanz (DE) and Matej Bel University (SK) Since 2013 she has been a part of the development of the first Norwegian BA programme in Musical Theatre and through this developed new and innovative methods for teaching multidisciplinary performing arts.